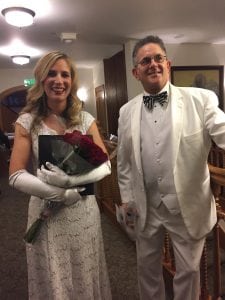 Have you seen a concert in the Tabernacle on Temple Square? The New Years Eve performance on Temple Square was a great event. There were several performing groups including big bands as well. It was very special to be able to be part of the concert series this year, and to sing in such a beautiful historical venue. The acoustics are outstanding, like non I've ever seen. I remember visiting this venue as a child and I never dreamed I would one day sing inside it myself.
When the Tabernacle dome was built, in 1864-1867 they used sandstone. It was an architectural wonder having zero obstruction in the way of the audience viewing the stage. It was built before there was any amplification and the acoustics are so remarkable even a pin can be heard when it drops. It is quite possibly the highest quality performing hall I've ever been able to sing in and I've had the privilege to do it twice now. I am honored and grateful to have had the opportunity to sing. Singing inspirational music and using my voice to uplift others is the only reason I do it. Music is powerful and I enjoy helping others feel good through music.
Below is a testimonial about that evening performance at the Tabernacle and one reason why I continue to sing. If you'd like to leave a testimonial too. Please do by clicking this link here.
"My wife and I are Guest Service Missionaries for the Church at the Conference Center and Temple Square. Your program during the holidays was very moving. And then the surprise of receiving a CD. I went to our supervisor to see if we were eligible to receive one and he said he had saved some for us.
I want you to know when I walk into the kitchen of our home my wife is playing your CD every morning and throughout the day. She really enjoys your music. Within the last two weeks Ann has an Aunt who lost her husband. She had a beautiful soprano voice in her day, so Ann gave her a copy of your CD to brighten here spirits.
Thanks again for your generosity, we are enjoying your talent very much." -Bob and Ann
https://www.vanessajoy.net/wp-content/uploads/2018/01/vanessa-temple-squre.jpg
3000
2250
Vanessa Joy
https://www.vanessajoy.net/wp-content/uploads/2015/11/VanessaJoy-Gold-300x117.png
Vanessa Joy
2018-01-24 09:23:25
2018-01-24 09:38:19
Tabernacle on Temple Square Concert