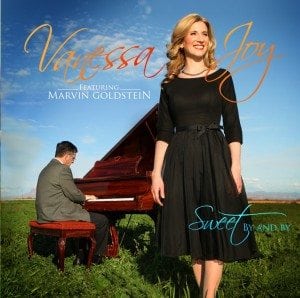 My Life Flows On is written by Robert Lowry. This song can be found on the album "Sweet By and By". You can listen to a sample of it here or here. Lyrics are below.
My life flows on in endless song,
above earth's lamentation.
I hear the clear, though faroff hymn
that hails a new creation.
Refrain:
No storm can shake my inmost calm
while to that Rock I'm clinging.
Since love is Lord of heaven and earth,
how can I keep from singing?
Through all the tumult and the strife,
I hear that music ringing.
It finds an echo in my soul.
How can I keep from singing?
(Refrain)
What though my joys and comforts die?
I know my Savior liveth.
What though the darkness gather round?
Songs in the night he giveth.
(Refrain)
The peace of Christ makes fresh my heart,
a fountain ever springing!
All things are mine since I am his!
How can I keep from singing?
(Refrain)
https://www.vanessajoy.net/wp-content/uploads/2016/01/97a787f8d6fb66aaef15fa858aa433ea_XL.jpg
894
900
Vanessa Joy
https://www.vanessajoy.net/wp-content/uploads/2015/11/VanessaJoy-Gold-300x117.png
Vanessa Joy
2016-02-07 08:11:04
2017-12-21 09:50:02
How Can I Keep From Singing