Hope you enjoy the Video – The Voice. This concert was performed in the beautiful scenic mountains at the outdoor venue in Utah at the Draper Amphitheater . The Celtic inspiring song "The Voice" that is being sung in this video can be found here for purchase. This was a very exciting and thrilling concert for many reasons.
We enjoyed a live performance of music being played with an orchestra of several instruments. So many people worked hard and helped us to put this concert together and I am so grateful for everyone who participated. We are working towards doing many more concerts in the near future. Let us know if you'd like one in your area. We had several string instruments playing with us as well as a keyboardist, drummer, flutist, percussionist, pianist and Marvin Goldstein played 3 instruments himself including piano, accordion and the French horn.
The live instruments being played along with the beautiful lighting and sound was a dream come true. Music inspires me as I hope it does for you too. This song is one of my favorites and brings about a lot of great energy as well as sets a mood of excitement and zest for life itself. There are many reasons why I love music, one of the reasons I love it so much is because of it's great power to change your life.
Music changes my life for good all the time. Anytime I am needing to change my mood, I'll pick out uplifting and inspiring music to listen to. Immediately the music uplifts me and strengthens me and changes my heart and mood. Try it sometime for yourself, it's a great way to change your mindset, and put you on a better path for a successful day. I hope it does the same for you and that you bless your life with the power of music. Let it change your life and build you up! I'd love to know how music blesses your life and I hope you'll share with me in the comments below.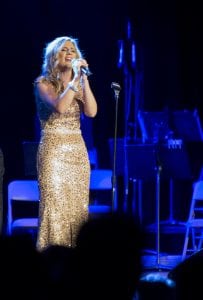 https://www.vanessajoy.net/wp-content/uploads/2017/12/Vanessajoy-e1513188866649.jpg
1481
1000
Vanessa Joy
https://www.vanessajoy.net/wp-content/uploads/2015/11/VanessaJoy-Gold-300x117.png
Vanessa Joy
2017-12-13 11:25:13
2017-12-13 11:25:13
Watch the Video - The Voice