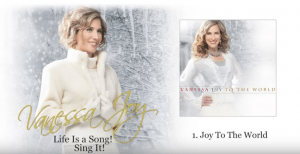 Joy to the world written by Isaac Watts is a hymn based on scripture found in Psalms in the Holy Bible. The lyrics celebrate Christ's birth but wasn't intended to be a Christmas song originally. The song was first published in 1719. Today is played worldwide and many people know it and sing it at Christmas time.
The song "Joy To The World" is found on the Christmas CD entitled "Joy To The World" and can be found here or you can listen to it here in Vanessa Joy's store or here on youtube. "Joy To The World" has been sung over the years for so many numerous Christmas festivities and occasions. It brings such happiness and joy to me in my life. The tempo on this album is fast and continues with lots of movement throughout the entire song and I enjoy it thoroughly.
As I recorded this song in the studio I thought and pondered a lot about how so many of us are very busy running around shopping this time of year. We're attending music concerts, getting that list of items done. I thought this song seemed to go right along with that hustle we all feel as we're trying to get everything accomplished before the final day is here. I pictured in my mind how many of us are running around trying to find that perfect gift, we're decorating our homes and trimming the tree, we're making goodies to bring to our neighbors and we're hoping to spread Christmas cheer with everyone we come in contact with as we hurry along with our many duties and responsibilities. It is my hope that this song brings you energy and strength as you listen to the cheerful melody and lyrics. Let it lead you into Christmas with a joyful spirit of love and happiness. Let Christmas music bless your life.
https://www.vanessajoy.net/wp-content/uploads/2017/12/Vanessajoytotheworld.png
432
843
Vanessa Joy
https://www.vanessajoy.net/wp-content/uploads/2015/11/VanessaJoy-Gold-300x117.png
Vanessa Joy
2017-12-13 14:31:02
2017-12-13 11:58:35
Listen to Joy To The World by Vanessa Joy