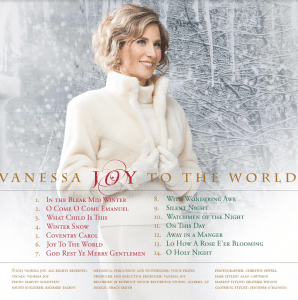 "Silent Night" by Vanessa Joy is found on the Classical Crossover Christmas CD entitled "Joy To The World" by Vanessa Joy and can be found here or you can listen to it here in Vanessa Joy's store or here on youtube. "Silent Night" is one of my very favorite songs in the whole world. There is so much peace that is felt while singing it as well as hearing it. I love it and always will. It warms my heart and it fills a room with so much holiness and love. It brings with it a spirit of hope, gladness, peace and love.
Silent Night is a popular Christmas Carol that has been around since 1818. Written in Austria by Franz Xaver Gruber and Joseph Mohr. It is one of the most recorded songs of all time. Of course I had to sing it on my Christmas Album. There is a delicate harp that is played in the arrangement and some strings were added to this accompaniment by Marvin Goldstein. I once again wanted the theme to repeat itself over and over again which was done effortlessly by Marvin. It is a very beautiful arrangement that was so fun to sing to. Every Christmas Eve this song is sung a capella as a family. It is our last song of the night before we pray and dig in to all the special treats that we've made. I love this time of year. I hope your family is together enjoying good company and the peace that comes from the knowledge that we have a Savior to turn to. He is with us at all times and we can turn to Him for added strength and he will help us. He loves you and cares about you. He wants you to be happy and he wants you to spread His love to others. He is counting on you to bless others. Use your talents and gifts to bless this world. He is counting on you and needs you.
Please share with us how has Jesus has changed your life? Please let me know in the comments below. Let this song bring you peace this Christmas and bless your life.
https://www.vanessajoy.net/wp-content/uploads/2017/12/Screen-Shot-2017-12-13-at-4.04.25-PM.png
1181
1174
Vanessa Joy
https://www.vanessajoy.net/wp-content/uploads/2015/11/VanessaJoy-Gold-300x117.png
Vanessa Joy
2017-12-24 15:07:58
2017-12-14 12:26:16
Silent Night by Vanessa Joy