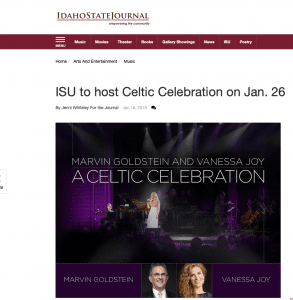 For nearly 60 years, Marvin Goldstein hast best been known as an internationally acclaimed concert pianist and composer, but the "Celtic Celebration" concert that Southeast Idahoans will experience at 7:30 p.m. Jan. 26 in the Stephens Performing Arts Center is something entirely different.
"This isn't a piano show," Goldstein said.
But Goldstein is not even the featured artist. For 10 years, Goldstein has collaborated with classically trained vocal performer Vanessa Joy on different musical projects that feature her voice backed by Goldstein on keyboard as well as other instruments.
Though acclaimed for his keyboard prowess, something not commonly known among the public is that piano was never Goldstein's main instrument. Goldstein began his music career at age 9 on the accordion. He attended Tel Aviv University and Florida State University where graduated with bachelor's and master's degrees in — not the piano — but the French horn.
Starting out 10 years ago as a performing duo, Goldstein and Joy have now helped write full orchestral arrangements of their music which will be performed by local talent made up of the Idaho State University orchestra and other community members.
"In my 60 years of performing," Goldstein said, "I have never come across a musician who could deliver a song as emotionally and beautifully as Vanessa."
Joy earned her vocal music degree from Brigham Young University in Provo, Utah. In 2009, she attended a Music Business Convention in Arizona at which Goldstein was teaching. Up until that time, she had been singing in various community productions, but wanted to take her music to a higher level. She said that it had always been her dream to perform with full orchestra. At the business conference, Goldstein heard Joy sing, got to know her and her dreams, and offered to do an album with her.
Goldstein said, "At that time, I had had over 50 years of performing. I began to think that maybe I could begin to impart some knowledge or help other musicians. … Years ago, I was sitting with a guy in a car and told him I wanted to perform with an orchestra and he wrote me a huge check. I get emotional hearing her dream because her dream was the same as mine."
Joy added, "The highlight of all of this is to see a dream come true. You just never know how it's all going to come together — you pray and hope and put in a lot of work and time and effort — it's challenging, and you just must keep with it. … We've been performing [Celtic Celebration] for the past year and it's been so fun to watch it develop and grow and turn into this amazing music. It is the thrill of my life to make this happen."
Both Goldstein and Joy expressed how challenging it is to coordinate a show like theirs with the community members with whom they perform.
After ISU asked them to come, orchestra music had to be sent weeks ahead of time for the orchestra to practice. Goldstein and Joy arrive the day before, or even the day of, to rehearse.
"You have to be very prepared and rehearsed beforehand," Joy said. "For them to be willing to put in the effort and time to learn our music for us to enjoy and share with other people in the community has really been a beautiful experience all around."
Goldstein admitted that he did at first not connect to the sound of Celtic music like Joy did, but after developing the show, he has found that people have loved that "beautiful folksy music with a lot of rhythm and unique sounding instruments."
Goldstein said that the Celtic Celebration is a collection of their arrangements of original Irish melodies as well as Celtic twists on such American classics as "The Sound of Silence" and spirituals such as "Amazing Grace."
Blending Joy's operatically trained voice with common American tunes and Celtic layman style is an example of what Goldstein termed "musical fusion." Joy calls herself a "crossover singer" who can perform vocal music in many different styles — from opera to pop.
"Mixing of genres is not normally mainstream," Goldstein said, "but right now it's very popular. And that's exactly what we're doing with the Celtic music and other things, too."
Since working together as a duo, Goldstein said they have performed in Egypt for the U.S. Ambassador, in South America, Israel, Greece, Turkey, and all over US and Canada. They have also recently published the second album in a series of completely extemporaneous relaxation music.
"It was fun to be free and just experiment," Joy said.
"It is all recorded by gut instinct," Goldstein said. "We never took a retake. Vanessa uses her voice like an instrument while I improvised on the keyboard."
The duo's first project together was an album called "Sweet Bye and Bye," which was a collection of religious music from different Christian denominations in which they "hoped to show through music the commonality in Christ."
"That album kind of sums up one of the main purposes of our association together," Goldstein said.
He believes music has the power to connect and unite people and he runs a non-profit organization called Peace with Music which allows them to bring their music to areas less fortunate areas around the world.
Goldstein recalled the joy of playing his accordion every night on the Israeli kibbutzes, or communal farms.
"I wondered about how music brings not only peace to a soul, but to a community," he said. "Why can't it bring peace to a country or the world?"
Joy stated that music is her way to give back to the world.
"It's in that sharing of your talents that you share part of your heart and part of you," she said. "That's why I've chosen to follow what's in my heart to do."
https://www.vanessajoy.net/wp-content/uploads/2019/02/Screen-Shot-2019-02-04-at-5.36.55-PM.png
998
976
Vanessa Joy
https://www.vanessajoy.net/wp-content/uploads/2015/11/VanessaJoy-Gold-300x117.png
Vanessa Joy
2019-02-04 17:43:19
2019-02-04 17:43:19
Idaho State Journal