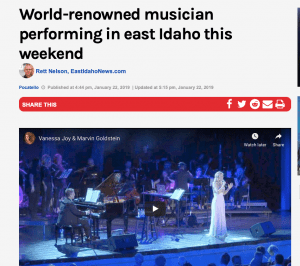 IDAHO FALLS — At age 69, Marvin Goldstein is celebrating his 60th year as a performing musician. His career as a composer and concert pianist has taken him all over the world with many well-known artists, but he says the highlight of his career is just beginning to unfold.
"The dream project that's coming to fruition is actually performing for and with Vanessa Joy," Goldstein tells EastIdahoNews.com.
Vanessa Joy is the headlining performer with Goldstein in a concert entitled "A Celtic Celebration" at the Jensen Grand Concert Hall in Pocatello this weekend.
"People are in for a treat," Goldstein says about Joy. "She's so talented. The show is written for Vanessa and her classical style. I feel absolutely honored to (be performing with her)."
Goldstein first met Joy about 10 years ago at a music seminar he hosted in Mesa, Arizona. Joy was one of several other musicians Goldstein asked to perform for the crowd. Goldstein was so impressed with Joy's performance, he asked her to record an album with him. Since then, the two have performed at hundreds of events together around the globe.
Goldstein says "A Celtic Celebration" is different from anything people have seen in a Marvin Goldstein concert. For one thing, Goldstein will be playing other instruments, including the french horn and the accordion. The concert will also feature well-known songs like "Danny Boy," "My Heart Will Go On," and "Amazing Grace," along with many other classic favorites with a Celtic twist.
"I have Irish roots and (Celtic) music has always spoken to my heart. I love the sound, the feel of it and the stories," Joy says. "It took several years to get Marvin on board with it, but we've been doing (the show) for about a year now and it's great."
There will also be performances from local orchestras and choirs.
"The (songs) are going to be heard (as) they've never been heard before," says Goldstein. "It's going to be a rich evening of very recognizable music."
This concert will be the first time in 50 years Goldstein has not been the headlining performer.
Goldstein's musical training began when he was 9-years-old. Six months later, he gave his first public performance. He was awarded a music scholarship to Tel Aviv University School of Music in Israel at age 18. He continued his studies at the famed "Mozarteum" of Salzburg, Austria and earned bachelor's and master's degrees from Florida State University in French horn performance.
Six years later, he was invited to be the keyboard player for rock group Three Dog Night.
"That didn't last long. They told me no spouses or friends were allowed to travel with the group ever," says Goldstein. "It was 1978 and they offered me $3,000/night to play with them, but I told them I just can't. You don't give up a marriage for money."
Goldstein continued to perform on his own all over the country, until 1985, when he became a member of the Church of Jesus Christ of Latter-day Saints.
To date, Goldstein has recorded 50 albums, including one with Grammy winner Billy Dean and former NBA star Thurl Bailey.
"I've had a great career, but the odd thing is that it's not even over. I may even hit 90 years of performing. It's amazing," Goldstein says.
https://www.vanessajoy.net/wp-content/uploads/2019/02/Screen-Shot-2019-02-04-at-5.10.37-PM.png
840
948
Vanessa Joy
https://www.vanessajoy.net/wp-content/uploads/2015/11/VanessaJoy-Gold-300x117.png
Vanessa Joy
2019-02-04 17:14:23
2019-02-04 17:14:23
East Idaho News