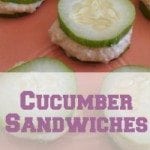 Cucumber Sandwiches
2014-01-30 19:24:23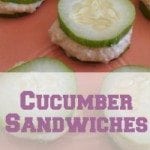 If you couldn't tell by now I like simple, and healthy recipes. I also like to eat an occasional treat from scratch too but I mostly eat FOOD, real FOOD not junk. When I use the word food, I mean naturally grown by God not anything processed. (Food to me = vegetables, fruit, nuts, seeds, legumes, occasional meat, dairy and grains) I need as many fresh ingredients as possible in my diet because what I eat really effects my body. (Good nutrition effects everyone, but I feel it right away when I haven't eaten something good for me) This recipe takes hardly any time but you need a food processor. I used cucumbers from my garden in June and they were so crunchy and sweet they almost had a watermelon flavor. This is a great recipe for those of you who do not like dairy products because the filling resembles cream cheese but it is made with nuts instead. It is a very healthy recipe that is considered to be all raw food (my favorite) I love to eat it as a snack. These are a great finger food for parties. Just pop em in your mouth and crunch away! It has so much flavor it makes my mouth sing!
Filling
3/4 cups raw almonds that have been soaked overnight. (drain them)
1/3 cup water
1/4 cup fresh squeezed lemon juice
2 TBS tahini
1/4 cup red onion
2 garlic cloves
sea salt
Instructions
Blend ingredients in food processor until it has a smooth consistency like hummus. Slice cucumbers and spread filing between two cucumbers to make a sandwich.
Vanessa Joy https://www.vanessajoy.net/
https://www.vanessajoy.net/wp-content/uploads/2014/01/cucumbersandwiches.jpg
634
900
Vanessa Joy
https://www.vanessajoy.net/wp-content/uploads/2015/11/VanessaJoy-Gold-300x117.png
Vanessa Joy
2013-09-06 02:25:07
2014-01-31 09:54:44
Cucumber Sandwiches