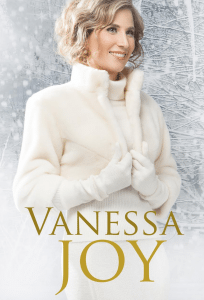 "Away In A Manger" by Vanessa Joy is the 9th song found on the Classical Crossover Christmas CD entitled "Joy To The World" by Vanessa Joy and can be found here or you can listen to it here in Vanessa Joy's store or here on youtube. Away In A Manger is a Christmas Carol that has been around since the late nineteenth century. It is sung throughout the world at Christmas time and is a favorite of many. The original lyricist has not been determined, however the words are so beautiful and set such a lovely picture of what it was like that special night in the lowly stable.
"Away In A Manger" was arranged by Vanessa Joy. The delicate peaceful lullaby is sweetly played as if a music box had been turned, and keeps turning until the very end of the song as is finally finished out slowly plucking the last few chords. The sound of the music box reminded me of when I would turn the mobile on over my child's bed before going to sleep, it was a cheerful little song that would play for just a few minutes as my little newborn baby laid in her crib falling asleep. I like to imagine what it was like that night laying the Savior in a manger because there was no crib, and carefully wrapping Him in swaddling clothes so tightly for Him to sleep. I imagine Mary softly singing this little lullaby while rocking him back and forth in the manger. The stable where Christ was born, was it cold that night? Was it crowded and loud with the animals or were they still and quiet? I love to think about that evening. Mary after long travels to get there, and having all these visitors after right after delivering her baby? I'm not sure I'd be up for visitors, but Mary was so meek and mild, she was the perfect person to be able to handle everything with love.
Do you often wonder about what it would have been like to see our Savior in a manger? How has He changed your life? Please let me know in the comments below. Let this song lead you into Christmas and bless your life.
https://www.vanessajoy.net/wp-content/uploads/2017/12/Screen-Shot-2017-12-13-at-4.07.59-PM.png
1157
787
Vanessa Joy
https://www.vanessajoy.net/wp-content/uploads/2015/11/VanessaJoy-Gold-300x117.png
Vanessa Joy
2017-12-21 09:10:11
2017-12-21 08:56:41
Away In A Manger by Vanessa Joy