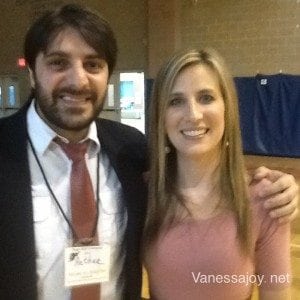 Years ago Arthur attended my classes at BYU Education week. I found out he is a talented musician and I want to introduce you to him. He has grand visions and goals for the future with his music. Find his music here and let it inspire you. We plan to record a composition together that he is currently writing now so stay tuned.
My name is Arthur Minasyan and I was born in Armenia on April 7, 1979. At the young age of 8 I began attending music school where my mother was a teacher. I enjoyed all the classical masterpieces that I heard during my mother's classes and I would often stay to listen to those. I left the music school after 4 years of studying.
One day when I was 14 years old, during a time when the country faced years of difficulty, war, and cold from the lack of power, I sat by the piano and started to play something by candlelight. Since then I realized that I have the potential of composing music.
My inspiration comes from many different things such as nature, sad or happy situations, people, traveling to new places, and stories. But mostly I get inspiration from God and those tender but vivid whisperings that I have in my head and soul. When I create a new piece I can feel the power of Heaven and the Lord's mighty hand in that composition. I can even go without sleep or food if necessary in order to finish a particular piece. Sometimes in the middle of the night I have words in my heart saying, "Sleep well people, because in the morning I have something new to tell you."
My future goal is to release an album of the songs that I wrote over the years. I want to have my own professional music studio where I can work on my own compositions and also collaborate with talented musicians and singers. I want to write soundtracks for movies which will be teachable, inspirational, and memorable, because of the story and its music. Also I have a vision to write songs which will be loved, inspiring, and dwell in hearts of many people.
I was nominated for the composition called "The Colors of Christmas", which I created and devoted to Christmas day. I had a goal to finish it by Christmas of 2013. On December 25, 2013 I released it. I could feel the spirit of celebration and something special while I was creating that piece. I'm glad that I was nominated for this composition and feel honored to be a nominee for the Utah Music Awards ceremony.
My goal is to touch the hearts of people and invite the spirit of unity, understanding, and love.
https://www.vanessajoy.net/wp-content/uploads/2016/02/VanessaJoyandArthurMinasyan.jpg
721
720
Vanessa Joy
https://www.vanessajoy.net/wp-content/uploads/2015/11/VanessaJoy-Gold-300x117.png
Vanessa Joy
2016-02-23 09:41:42
2016-02-23 09:43:29
Meet Arthur Minasyan